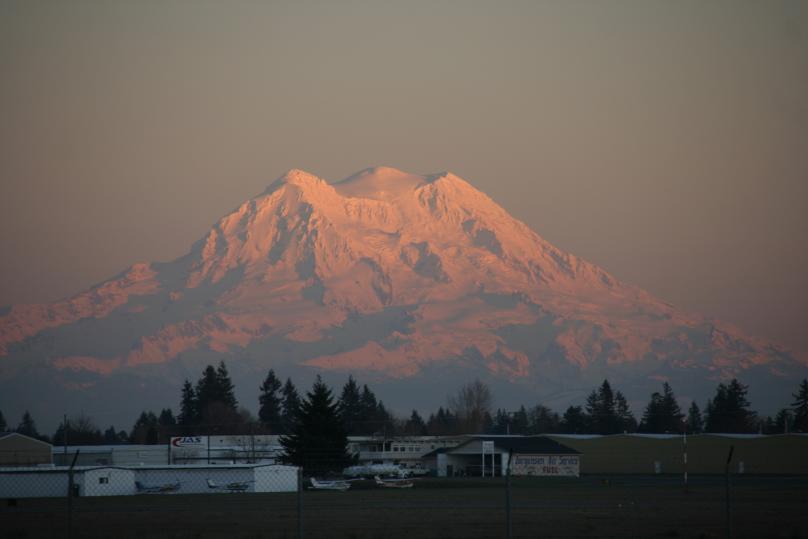 Blog & Photos by Guest Blogger: Douglas Scott of The Outdoor Society
On sunny days with clear skies, it is hard to imagine a more beautiful destination than the Olympia region. Surrounded by water and trees, lakes and mountains, we are spoiled with natural wonders. Standing large to the east, rising from the prairie like a glaciated giant, Mount Rainier is part of the soul and spirit of the Olympia region. Known simply as "The Mountain" or "Rainier," the massive mountain stands just 55 miles as the crow flies from Olympia, giving residents and visitors amazing views, incredible sunrises and sunsets and a constant reminder that we are surrounded by breathtaking scenery. Mount Rainier is the most visible National Park in America and while trees and forests block some of the majesty of the magnificent mountain, every resident and visitor to the region has their favorite Mount Rainier viewing location that leaves them awestruck. With hundreds of great places to catch a glimpse of the iconic peak, we have seven locations that can't be missed, whetting your appetite to discover your own favorite view.
Bonus: Chehalis Western Trail
Stretching for more than 20 miles, the Chehalis Western Trail is a rails to trails success, reconnecting the communities of Thurston County along the old rail lines. Today, the mostly flat path is perfect for joggers and bike riders of all ages and abilities, giving a perfect taste of the natural beauty of the region. The trail is also home to numerous views of Mount Rainier, including some pretty spectacular ones along the southern portions of the trail.
STAY OVERNIGHT FOR MORE ADVENTURES
Spend the weekend and find dining, lodging, events, festivals and entertainment ideas at experienceolympia.com. Make sure to share your adventures with us by tagging social posts #DecidedlyDifferent and connect with us on Facebook, Twitter (@Experience_Oly) and Instagram (@ExperienceOly).