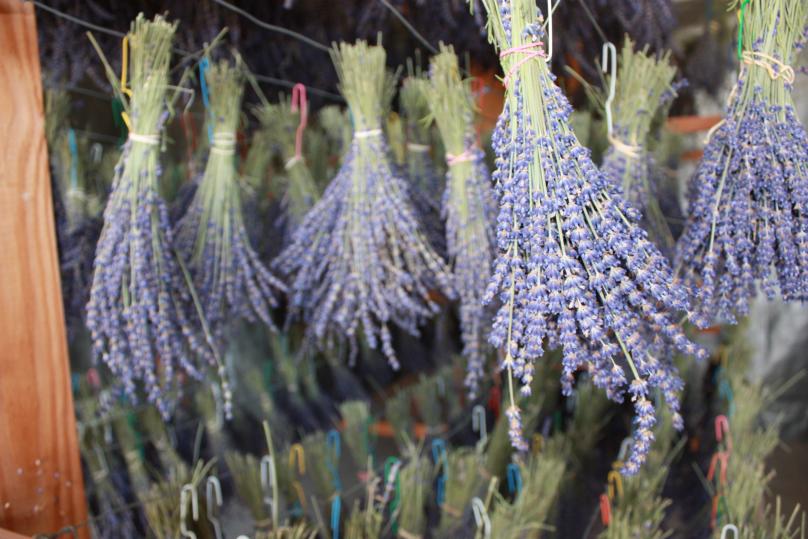 Lovely lavender has long been known as a calming and medicinal herb when used in aromatherapy, potpourris and soaps. In decidedly different fashion, the Olympia region's local artisans work with Evergreen Valley Lavender Farm to bring this lovable herb to the table. Sourcing a fresh culinary crop from the farm ensures bright and complex flavors for cocktails, sweets and savories. Here are three local spots to sample the farm's current crop:
Known for its Food Network fame on Cupcake Wars, Miss Moffett's Mystical Cupcakes serves up Lavender Lemon Cupcakes. This seasonal treat is filled with lemon curd, lemon and lavender whipped cream cheese frosting with lavender bud garnish to top it off. Offered as an ongoing Saturday special, this might be the sweetest way to sample local lavender.
 
Try your luck at Red Wind Casino and polish off a day at the black jack table or a three-course seafood extravaganza with a lavender panna cotta. This savory treat is served with a tuile cookie, native wild plum syrup and seasonal berries.
 
Ricardo's Kitchen offers an amazing space for indoor and fireside patio dining. This creative kitchen is using Evergreen Valley Lavender in its Lavender 75 craft cocktail, a sparkling sipper that blends house lavender syrup, fresh lemon juice, sparkling wine and gin for a refreshing respite from a long day. Chef and owner Rick Nelsen was kind enough to share his recipe:

Ricardo's Lavender 75
5 ounces of House Lavender Syrup (Infuse a basic simple syrup with fresh lavender)
5 ounces of Fresh Lemon Juice
1 ounce of Bellewood Apple Gin
Top with choice of Brut Champagne and garnish with fresh lavender—say cheers!
 
Those looking to go straight to the source can visit Evergreen Valley Lavender Farm, open Thursday to Sunday (10 a.m. – 4 p.m.), now through August. Relax in the fields, bring home organic lavender (fresh, dried and culinary), premium-quality essential oils and sprays, and handmade gifts from local artisans. Sample all the area has to offer and make a weekend of exploring more local artisans and businesses on the Thurston Bountiful Byway. Choose where to drink, dine and stay at experienceolympia.com or connect on Facebook, Twitter (@Experience_Oly) and Instagram (@ExperienceOly).