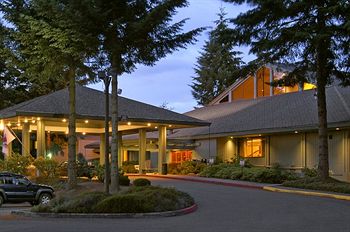 A multi­million dollar renovation is on schedule for the Red Lion Olympia: The property will convert to the new upscale lifestyle look of the "Hotel RL" brand.
"Red Lion was founded in Washington state in 1959, and as the state capital Olympia is an important meeting place," said RL president and CEO Greg Mount. "Hotel RL focuses on providing a setting similar to a town square, where visitors and locals alike meet to collaborate. Olympia is the perfect market in which to do that."
Upgrades to the 200 guest rooms, lobby, restaurants and 16,500 square feet of meeting space will begin in March and are targeted for completion by year's end. The concept was inspired by the spirit of the Pacific Northwest, and designed for consumers with a millennial mindset. The Red Lion Hotel Olympia is one of three current Red Lion Hotels primed to convert to a Hotel RL, including also the Red Lion Hotel at the Park in Spokane and the Red Lion Hotel Salt Lake Downtown.
Red Lion Hotels Corporation is a hospitality company primarily engaged in the franchising, management and ownership of mid­ and upscale hotels. The company has more than 50 hotels worldwide and also owns and operates an entertainment and event-ticket distribution business. For details on RL ventures, see www.redlion.com