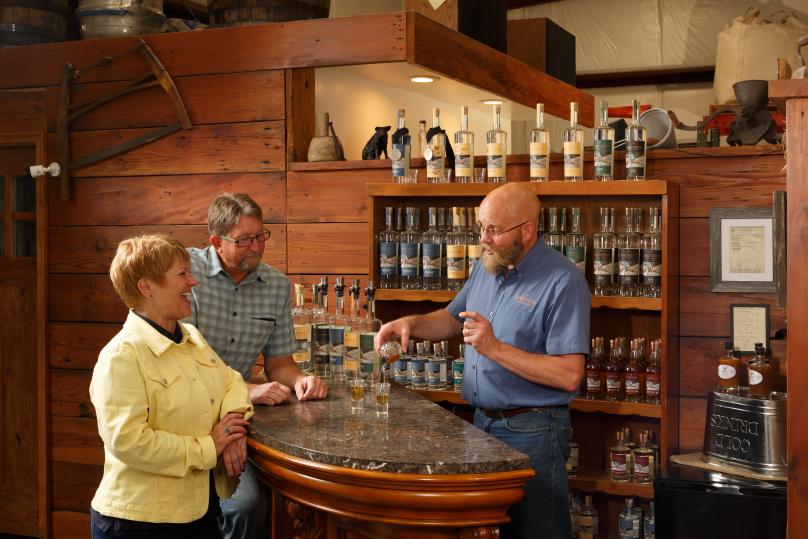 Fresh fare and a commitment to doing things a little differently abounds here in Washington's Capital region. With countless family-owned farms and a creative culinary crowd, we suggest visitors come hungry. Those looking to sample from the source can plan a trip using the Bountiful Byway, a self-guided, 60-mile route for tasting and touring the region's farms, tasting rooms and culinary experiences.
Dedicated to helping visitors explore the region's 68,000 acres of farmland, this printed and digital map (linked here) connects travelers to the source of the region's best beverages, fresh produce and more. With more than 25 stops for tasting, sipping and exploring, the many options may be daunting to a first timer or those with just a day or weekend to spend. To help narrow the foodie playing field, we present four categories to connect each traveler type with all things fresh, tasty and local.
Find it on the Farm. Meet the purveyors at Helsing Junction Farms, a 50-acre working organic vegetable farm. Plan ahead and schedule a farm tour in advance or stop by the roadside stand for the pick of the day. Evergreen Valley Lavender Farm (opens for the season June 14) distills their own essential oils and is a relaxing break from the hustle and bustle, or stop in at one of the three farmers markets along the route in Tenino (open Saturdays beginning May 5), Olympia (open Thurs-Sunday) and Yelm (open Saturdays beginning May 26). Make sure to pack a cooler for all the fresh finds you'll pick up along the way.
Get your Gourmand On. Delight in the farm fresh ingredients and creative preparations from local chefs. Three Magnets Brewing offers a locally-sourced menu of creative yet casual pub fare with events like "From the Garden Wednesday" or "Burger Lab Mondays." Taste the Olympia Farmers Market's freshest ingredients prepared by top talent at the new food truck, Our Farmer's Table. Located within the market, this new eatery sources 60-70 percent of its ingredients from market vendors. Spend the afternoon at Offut Lake Resort's Lady of the Lake Public House and don't miss the Hickory Burgers, a fresh, half pound patty of Nelson Ranch beef smoked and made to order. For fresh oysters, check out Bay Mercantile, located right on the mud flats, and sit around the fire during sunset at one of their tasting events.
Whet your Whistle. Toast the region's craft beverage producers and choose from a variety of tasting rooms including Madsen Family Cellars, Medicine Creek Winery, Salish Sea Organic Liqueurs, Sandstone Distillery, Scatter Creek Winery, Stottle Winery, and Three Magnets Brewing. Polish off the day with local food truck fare and craft brews at Top Rung Brewery.
Find Something Different. Visit Wolf Haven International, a nationally recognized sanctuary for captive born and displaced wolves. Guided visits are approximately 50 minutes (by appointment only) and cover a variety of educational information about wolves, including biology, their role in a healthy ecosystem and recovery programs. Hop off the byway to blaze a trail by foot or bike on the paved expanse of the of Yelm Tenino Trail. Bring a bike or ride for free courtesy of the Tenino Yellow Bicycle Project, a community-based bike sharing organization. Then take a dip in the Tenino Quarry Pool, a once working sandstone quarry.
Lodging along the byway satisfies a range of styles. Explorers can choose from the spacious and well-appointed rooms of the Lucky Eagle Hotel and Casino or the comfort and scenic views found at the Prairie Hotel. Opt for a cozy B&B instead and try unique locations like Scatter Creek B&B or Swantown Inn & Spa.
Travel Tip: Access the Thurston Bountiful Byway from I-5 via the Nisqually Valley Exit 114, from US-101 via the Mud Bay Exit. Those looking to explore car-free can arrive via Amtrak at Centennial Station with bike in tow. Thurston Bountiful Byway Maps can be downloaded a BountifulByway.com.
Header Photo Courtesy of Nelson Ranch.