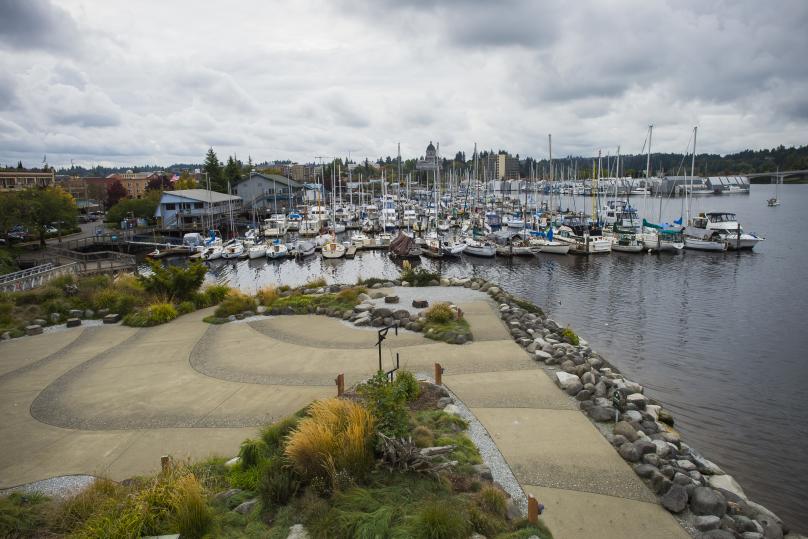 Among other metrics, Olympia has been named one of 29 Best Small Cities in the U.S., based (partially) on its coffee.
According to National Geographic Traveler, the most widely read travel magazine, Olympia ranks among 29 top cities nationwide based on 10 categories that matter to both visitors and locals. The editors give a special nod to Olympia in the categories of Most Caffeinated (coffee shops per capita) and Greenest (for number of parks). 
So, you want to spend a perfect weekend in this fair city? Here are some of our top picks to experience this caffeinated, green destination.
 
Friday, 10 a.m.
Arrive early and start your long weekend with a free coffee cupping at the Olympia Coffee Roasters flagship café located downtown. This craft coffee hotspot, as featured on the South Sound Coffee Trail, welcomes newbies and caffeinated connoisseurs alike for an educational tasting opportunity.
Mid-Morning, Lunch on the Go  
Check out the handcrafted culture and organically grown produce while sipping locally made kombucha at the Olympia Farmers Market. Open every Saturday through March, and then Thursday through Sunday from April–October, this flavorful enclave provides access to the best seafood, produce, cheeses, and locally made foods–all under one roof.
Afternoon
Explore Tumwater Falls, an easy half mile, pet-friendly trail around the Deschutes River. This waterfall is easily accessible and the short trail makes this the perfect winter leg stretcher, no matter the weather.
Dinner
Known as "The Best Little Italian Restaurant in Town," enjoy delicious pasta, pizza and more authentic Italian fare at Pellegrino's Italian Kitchen.
 
Saturday
Spend the day tasting along the Bountiful Byway.
Designate a driver, bring a picnic and explore the scenic views and tasting opportunities along the Bountiful Byway. Stops include Medicine Creek Winery, Salish Seas Organic Liqueurs, Stottle Winery or Madsen Family Cellars. Find the shops and stops that spark your interest at bountifulbyway.com.
Enjoy fresh air, meet local wildlife or enjoy the sunset on a clear day with a nature walk at the Billy Frank Jr Nisqually National Wildlife Refuge.
Drinks & Dinner
End the day with a local craft brew and fare from the visiting food truck at Top Rung Brewing Co., a unique brewery run by local firefighters.

Sunday
Brunch
Enjoy a decidedly different brunch experience at Budd Bay Café where you'll dine with waterfront views and a menu that's been voted "Best Brunch in the South Sound" for over 20 consecutive years.
Shop
Explore downtown Olympia and visit locally owned boutiques and shops (don't' miss Archibald Sisters and Belleza Ropa).
Head to Priest Point Park for 314 acres of easy trails, views of Puget Sound, downtown Olympia and the Capitol Building.  
Stay in a variety of hotels, inns and bed and breakfasts detailed at experienceolympia.com.
Make sure to share what you're eating by tagging social posts #DecidedlyDifferent and connect with us on Facebook, Twitter (@Experience_Oly) and Instagram (@ExperienceOly).