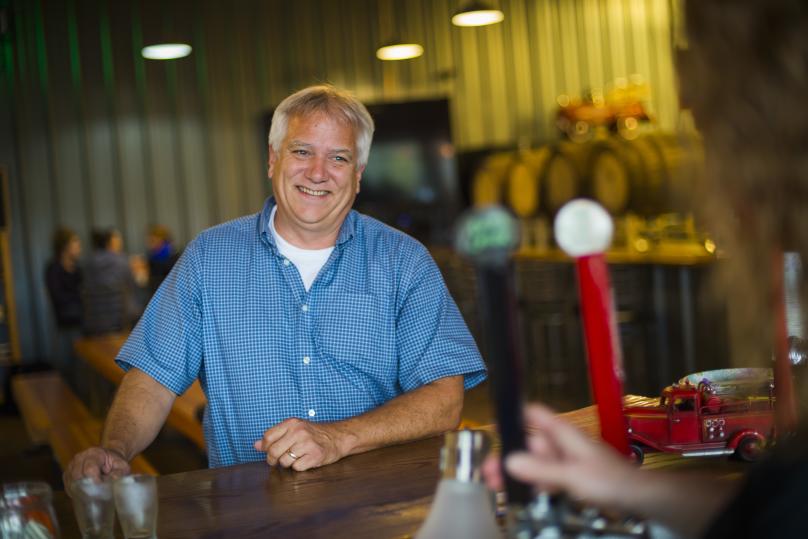 The day for dad is just around the corner, coming up on June 17. This year, ditch the Hallmark card and spend some quality time with the father figure in your life. Hop on a bike, pick up a pint at a local brewery or Top Gun-it and take him for a flight in a B-25 bomber. Here are 21 ways to raise the bar for Father's Day this year.
Head to the 20th Annual Olympic Air Show at Olympic Flight Museum June 16-17, 2018. Watch aerobatic demonstrations from museum aircraft and special guests, including a "sky dancing show" and much more. Really wow dad and book a ride in the historic B-25 bomber, "Grumpy". Advance sign up is encouraged, must call (360)705-3925 for details.
Toast the weekend with a craft beer at Well 80 Artesian Brewing Company. Enjoy artisan-style pub fare and popcorn paired with beer that's crafted with the same artesian well water for which Olympia Beer became known. It's still the water.
Take the culinary inclined dad for a trip on the Thurston Bountiful Byway, a 60-mile self-guided agritourism adventure to sample and bring home craft beverages, spirits and farm-fresh fare straight from the source.
Sunset on June 17 starts at 9:06 p.m., take dad to Tolmie State Park  for prime viewing with  three miles of trails set among 105 acres of land and a wide expanse of beachfront.  
Introduce him to Washington's hidden gem, Deschutes Falls Park, 155-acres of previously unchartered territory that recently reopened to the public.
Treat him to a coffee tasting at a variety of roasters around town. Chart the caffeinated course using the South Sound Coffee Trail, a self-guided exploration of all things locally-roasted coffee in Washington's capital region.
Just outside of town, an easy jaunt through Priest Point Park provides a unique vantage point of urban skyline to the left and Puget Sound to the right.
The athletically inclined may enjoy the challenging Capitol Peak Trail. At 2,500 feet in elevation, this trek rewards hikers with sweeping views of Mount Rainier and the Pacific Ocean.
The whole family, including furry four-leggers, are welcome at Top Rung Brewing in Lacey. There's even a dedicated area to keep the kids busy while parents sample seasonal ales from this pet-friendly craft brewery.
Sip spirits at Sandstone Distillery in Tenino. Enjoy a distillery tour and tasting with a side of local history inspired by the region's Sandstone quarries. Given the Bourdon family's longtime roots in this region and also in honor of the industry for which the business is named, distiller John Bourdon cold-filters his Vodka through fractured sandstone. The result is a clean, crisp spirit with a true connection to its source.
Grab the clubs and get out on the greens. A range of golf courses will satisfy newbies and experts alike.
Connect with the experts at South Sound Adventures and take dad on a Coffee or Beer Bike Tour. See the sights of the capital region with stops to sip the brew of your choice. All adventures include bike rental, helmet, tour guide and three samples at each stop
Follow the South Sound Craft Crawl and sample from more than 40 craft breweries around the region.
Opt for the South Sound Wine Trail, and sip along five boutique wineries around the region.
Bring the bikes to cycle the paved Yelm-Tenino Trail. Bring binoculars on this scenic 14.5 mile trail that connects the communities of Yelm, Rainier and Tenino with diverse views and terrain ranging from forest, wetlands, river lakes and more.
Plan a visit to Evergreen Valley Lavender Farm which opens for the season on June 14. Smell the calming varieties of lavender and take home oils and other goodies all made onsite.
Stop by the Olympia Farmers Market located on the waterfront for the day's freshest ingredients to prepare at home.  Pro tip: shop early in the day for best selection as many items sell out before noon.          
The WET Science Center will celebrate the day on June 16 with projects like photo frames, card making and more.
Visit the Hands on Children's Museum on June 17 when fathers and grandfathers receive free entry. Little hands keep busy making handmade gifts and cards for the occasion.
Learn a new trade. Find hand-carved, sandstone treasures and watch them being made or make your own with classes taught at the Stone Carver's Shed. Plan ahead to celebrate a day early (open Fridays and Saturdays).
Settle in for a day at Volunteer Park in Bucoda. Grab your poles, some bait and spend the afternoon fishing along the Skookumchuck River.
Find more ideas and lodging information at ExperienceOlympia.com. Show us your adventures by tagging social posts #DecidedlyDifferent and connect with us on Facebook, Twitter (@Experience_Oly) and Instagram (@ExperienceOly).