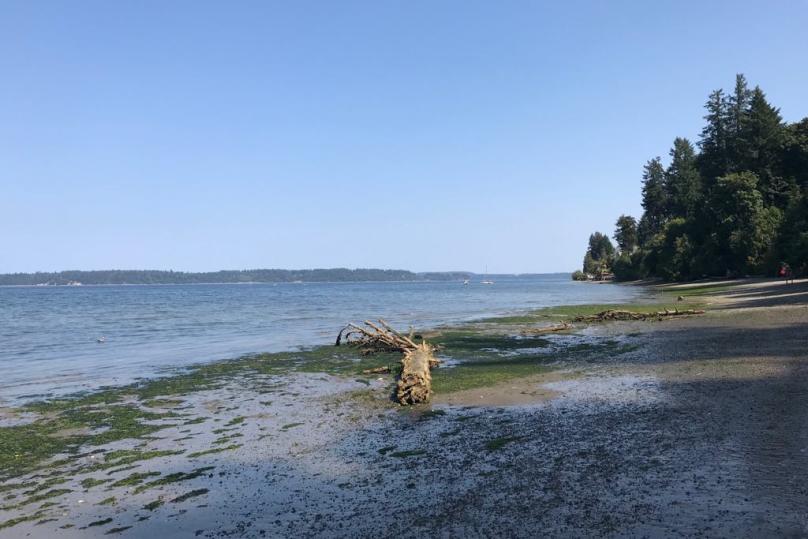 The last day of summer is September 22. This leaves about one month (31 days if we're being exact) of drinks on the patio, fun on the water and trail blazing in the sunshine. Soon it will be Labor Day, then the leaves turn and days will fill with pumpkin patches, fresh hop ales and corn mazes, but let's not get ahead of ourselves. To maximize what many consider to be the best place for summer travel, we countdown 31 ways to savor these remaining days of the beloved Pacific Northwest season.
 
Swim in the Tenino Quarry Pool and get a side of history with a day on the water. (note: this is only open through August)
 
Pair summer releases with dinner from local food trucks on the patio at Top Rung Brewery.
 
Check for low tide and explore the Tide Pools at Tolmie State Park.
 
Chase waterfalls. Choose from the accessible Tumwater Falls, hike into the Capitol Forest to find Mima Falls or meet Washington's "newest" waterfall at Deschutes Falls Park.  
 
Rent a boat and fish the day away on Offut Lake Resort, don't miss a meal at the waterfront restaurant.
 
When the mercury climbs, retreat to the air conditioned comfort of Yelm Cinemas, along with tasty food and beverages at the adjacent Uptown Lounge for pre or post screening sips and bites.
 
Sip anything seasonal from Salish Seas Organic Liquers or Sandstone Distillery, who both use creative produce and local ingredients for limited edition infusions.
 
Indulge in the finest artisan gelato with creative flavors inspired by the season at Sofie's Scoops or Hawley's Gelato & Coffee.
 
Have Sunday brunch on the Sound at Budd Bay Café, Anthony's Homeport, Tugboat Annies or any number of decidedly different brunch spots around the region.
 
Grab a free bike and explore on two wheels in Tenino courtesy of the Yellow Bicycle Project.
 
While you have that bike, check out the Monarch Sculpture Park for picnicking, exploring and relaxing. The Chehalis Western Trail runs by the park and is easily accessible from the heart of Tenino.
 
Travel by boat and spend a perfect day on the Olympia Waterfront, a recently installed fueling station at Swantown Marina makes the destination even more accessible for pleasure boaters and overnights.
 
Check out Long Lake in Lacey and explore with kayaks or stand up paddleboards from Northwest Paddle Surfers.
 
Spend the day at the beach, or get out and explore a variety of secret swimming holes.
 
Find delicious souvenirs or handmade goods at a variety of farmers markets around the region.
 
Take a long weekend and retreat to one of our cozy bed and breakfasts or hotels. Enjoy leisurely breakfasts, beautiful grounds and welcoming hosts.
 
Rosè all day (or enjoy your varietal of choice) at regional wineries along the South Sound Wine Trail, many offering outdoor tasting areas.
 
Take to the taproom at local craft breweries on the South Sound Craft Crawl for limited edition seasonal releases or collaborations available only on-site.
 
Take the kids for a final summer adventure at Boomshaka, Hands On Children's Museum or Laser Fun Zone.
 
Enjoy mostly shady trails and meet local wildlife at McLane Creek Nature Trail.
 
Have dinner on the patio at Ricardo's Kitchen & Bar, during the summer concert series on select dates through October 6.
 
Learn about the region's early settlers and brewing history while taking in the stunning natural beauty on a half mile, 45-minute guided Riverwalk Tour at Tumwater Falls. Offered select dates through September 20, tours are free and open to the public.
 
Spend the morning exploring the last unspoiled major estuary in Puget Sound at the Billy Frank Jr. Nisqually National Wildlife Refuge.
 
Have a day in the spray at the Heritage Park Fountain. Situated downtown between Percival Landing and the Capitol, it's an ideal respite when temperatures climb.   
 
Pack a pole and put in at Columbus Park at Black Lake where trout, catfish, bass and bluegill await. 
 
Put the SPF away for the day and get your craft on Shipwreck Beads, offering the world's largest selection of beads.
 
Don't forget the cooler for a scenic drive to visit the farms and stands of the Thurston Bountiful Byway, head home with all the fixings for a seasonal supper.
 
Savor warmer evenings and longer days in the great outdoors at a variety of scenic and secret camping spots.
 
Rise early for a day on the greens, a range of regional courses suit every age, interest and ability.
 
Send off summer during Olympia Harbor Days with vintage tug boat races, entertainment and fun for the whole family.
 
New this year, meet Washington's Tall Ships, Hawaiian Chieftain and Lady Washington during Olympia Harbor Days and also on select dates through September 16. Tour each ship or book a two or three-hour sailing experience on the high seas.
The list could go on, if only summer lasted forever. What did we miss? Share your end of season or Labor Day weekend adventures by tagging social posts #DecidedlyDifferent and connect with us on Facebook, Twitter (@Experience_Oly) and Instagram (@ExperienceOly).