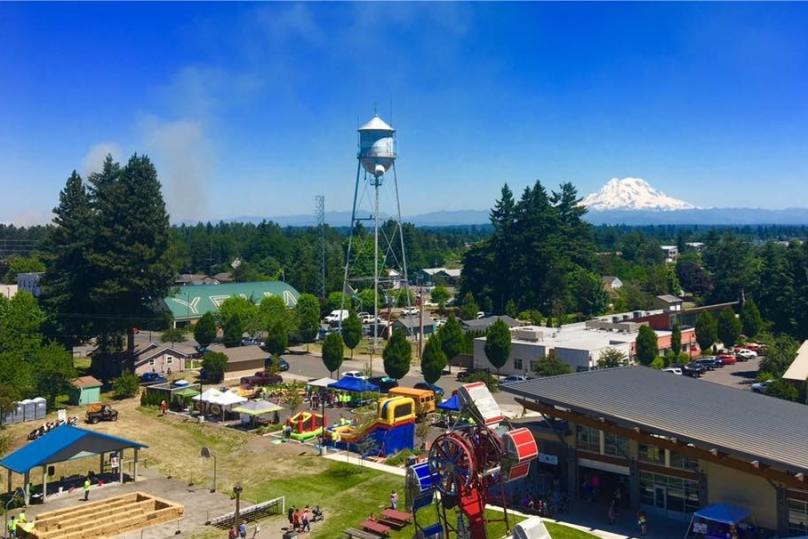 Warmer weather ahead! Looking for something a bit different for the summer travel calendar? Spend some time in spectacular viewing range of Mount Rainier in Yelm, WA. Escape the fast pace of the big city and go off the beaten path, to this tiny town that offers big charm. Here are eight things to do to in Yelm, to add to this weekend's itinerary or make a note for the summer months ahead.
Work up an appetite on foot or two wheels along the paved Yelm-Tenino Trail. Bring binoculars on this scenic 14.5-mile trail that connects the communities of Yelm, Rainier, and Tenino. Spot wildlife and enjoy diverse views of the Deschutes River, McIntosh Lake and more.
Be sure to pack a cooler to gather gourmet picnic fare or tasty souvenirs to bring home at the Yelm Farmers Market, open Saturdays, now through October 30 at the Yelm Community Center, conveniently located in the heart of town. Farmers, producers and artisans come together with children's activities, face-painting and local musicians to create a bountiful, locally-inspired shopping experience.
Take a jaunt just outside of Yelm to Deschutes Falls, a true hidden gem. This cascading waterfall offers a very short hike to spectacular, serene views.
Head back to town to take in dinner and a movie at the posh Yelm Cinemas and Uptown Lounge, a 21+ bar and lounge. Make sure to check the Facebook Page to keep up with menu and drink specials and fun, themed trivia nights.
Cozy up for the night at the scenic Prairie Hotel where guests find 67 well-appointed guest rooms, each with 42-inch flat screens and all the creature comforts with views of Mt. Rainier. 
Those looking to get out and experience a live event after a long hiatus should check out the Nisqually Valley BBQ Rally July 24. This festival features a BBQ competition, a beer garden, live music and plenty of activities for the kids!
Yelm makes a great base camp for a day trip to Mt. Rainier. On your way back to town, savor some of the best pizza outside of Italy at Pizzeria La Gitana. Outdoor patio seating is available!
Indulge your inner foodie by visiting the Nisqually Red Wind Casino. With six different restaurant dining options, you can enjoy everything from a brunch buffet to fresh seafood, sourced directly by members of the Nisqually Tribe! 
Find more events and happenings around the area at ExperienceOlympia.com. Show us your adventures by tagging social posts #DecidedlyDifferent and connect with us on Facebook, Twitter (@Experience_Oly) and Instagram (@ExperienceOly).