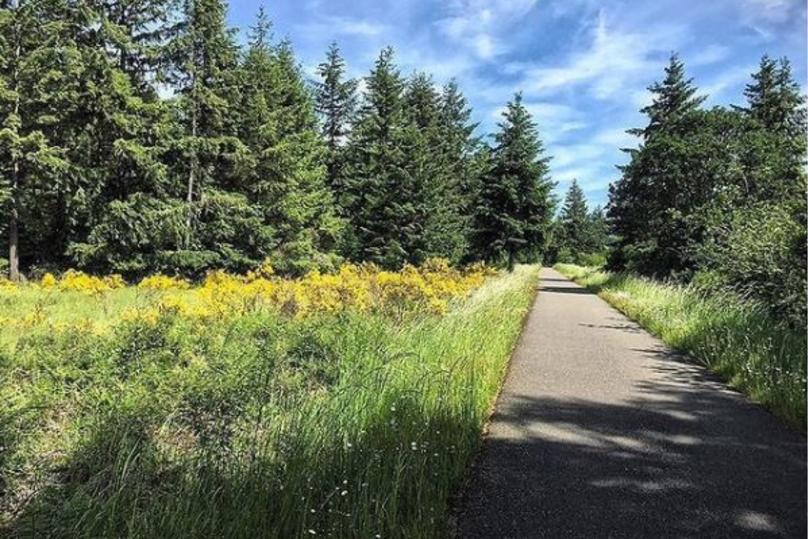 Bike riding ranks highly among free, outdoor, family-friendly activities. After the initial investment of the family bikes, there's no cost incurred when it's pedal-power that lets you feel the wind blowing in your hair. The breeze, the views and the health benefits, all make for an unforgettable family adventure. The Yelm-Rainier-Tenino Trail, a paved bike trail in Thurston County, is the perfect setting to make these memories. So, pump up your bike tires and take a day trip for a family bike ride along the Yelm-Rainier-Tenino Trail.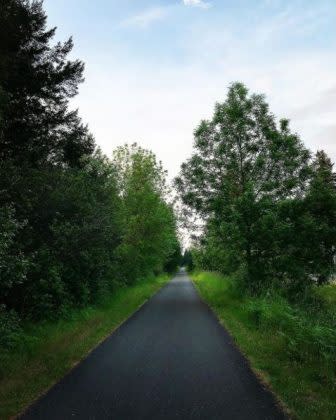 The Yelm-Tenino Trail, a former railroad, offers a serene and safe 14.5 miles of paved bike trail. Intersect with it's sister trail, The Chehalis Western, to reach most major cities in Thurston County. Photo credit: W. Dean
The Yelm-Tenino Trail, a magnificent example of Rails-to-Trails, is a 14.5 mile, paved, recreational trail. A railroad in its first life, it was operated by Northern Pacific Railroad's 65-mile Pacific Division line that operated between Kalama and Tenino and was dubbed the "Prairie Line." The railroad was in use from about 1869 to the late 1980s, and then began its second life when it was acquired by Thurston County in 1993.
Location
With a gentle east-west route, the trail is primarily flat, only changing in elevation approximately 320 feet in its nearly 15 miles. The trail welcomes visitors year-round, from near and far. It's an easy drive from Lewis, Clark, Pierce and Gray's Harbor counties, making it the perfect family day trip to Thurston County.
Traversing forests, agricultural lands, wetlands, creeks, a lake, and other habitats, the trail is a resplendent example of rural Thurston County and makes for a magical bike ride, away from cars and other cautionary diversions found in city-street riding.
Permitted Uses and Parking
The trail runs parallel to State Route 507, although you wouldn't know it thanks to the buffer of natural resources. The trail begins near Yelm City Hall, at 1st Street and Railway Road SE, passes through the town of Rainier, and ends at Tenino City Park. It is open to pedestrians, bicycles, and other forms of non-motorized use.
Equestrian use is also permitted, and riders are encouraged to use the equestrian path that runs parallel to the main trail. Trail users should always yield the right-of-way of horses.
Official parking lots are available at each end of the trail:
The trailhead in Yelm is located behind City Hall and features parking, picnic tables, restrooms and an information kiosk.
The trailhead in Rainier is located between Centre and Minnesota Streets, behind Rainier Market. Restrooms are available.
The trailhead in Tenino is located at Tenino City Park on Washington Avenue and also has access to restrooms.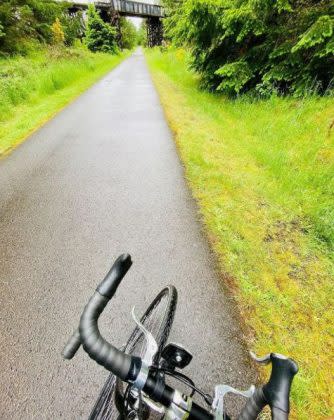 Pack your helmets, water bottles, and of course your family to bike this 14.5 mile paved trail traversing rural Thurston County. Photo credit: W. Dean
Otherwise, do like the locals do and check out the map to find the trail's cross streets. Park alongside and hop on the trail at your most convenient location. A note on cross streets, be prepared to stop while biking at these intersections and check for vehicle traffic. Each crossing is clearly signed for motorists as well as trail users.
Mile markers are placed every half mile along the trail for seamless navigation. Markers run east-west.