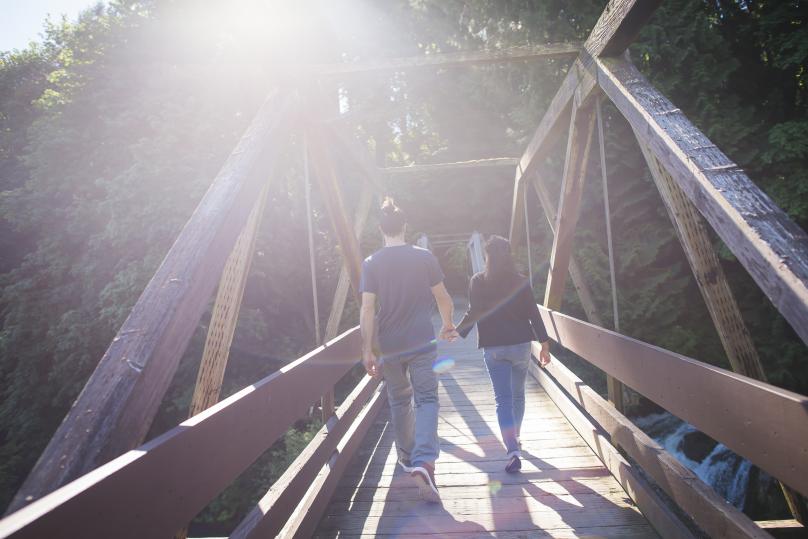 The season of love is upon us. Whether you adore this sweet season or count the minutes to February 15, we've got you covered with some decidedly different Valentine's Day-inspired travel plans. Behold, five ways to take the Hallmark out of the holiday throughout Olympia and beyond.
Bring the gals, a best friend or your better half to the Hands on Children Museum's Adult Swim, Love Bytes Celebration on Feb. 9 from 7-10 p.m. While its typically a favorite among the younger set, this destination opens its doors each month for an after hours, 21+ party. For February, it's all about the science of romance with tasty experiences, music and fun.  Savor the science of chocolate with a local chocolatier, enjoy beer, wine or a Love Potion #9 signature cocktail paired with tasty bites including mac and cheese, quesadillas and more. Join the Olympia Beekeepers to learn about this sweet hobby, sample hand-crafted elixirs created by the alchemists at Faery Apothecary or create a "Shake Your Tail Feathers" boutonniere or barrette with Shipwreck Beads.
 
Set out for a sunset stroll along the beach at Tolmie State Park then head for a pint at nearby Top Rung Brewing. With 1,800 feet of shoreline and a three-mile trail system, Tolmie is an ideal destination for taking in the early winter sunsets. Choose a clear day, bundle up and settle in for Mother Nature's light show. Post-sunset, warm up with a pint, free pretzels and a meal at Top Rung Brewing. Pack a picnic, order food to the brewery or check the website for a rotating schedule of food trucks that visit Wednesday through Saturday. Pro tip: check the tide tables and sunset chart to maximize your visit.
 
Have littles in tow? Bring the family out on the town for a group date. Local chefs and restauranteurs welcome pint-sized palates with delicious fare and kid-friendly venues. Bring the babes to the brewery at Fish Tale Brew Pub where parents sip hand-crafted ales fresh from the source and everyone enjoys a creative, locally-soured upscale pub menu. Sophisticated fare meets family favorites at locally loved Iron Rabbit, where root beer is brewed on-site, fresh and local.
 
If you're single (or even a couple!) that's not into this mushy love holiday, then the Anti-Valentine's Day festivities at the Uptown Lounge will be the right place to spend your Wednesday. A special, limited menu will be offered featuring cheeky cocktails like "My Ex's Tears" and "No Sex in the City" and a delicious "Bleeding Heart Burger." But wait, there's more! Share your best, worst dating stories, hear some anti-love poetry and take out your frustrations on a piñata. It's an event you'll love to hate. 
 
Find your first date ice breaker or bring your squad on a brewery tour by bike. The Olympia Beer and Bike tour is a three hour, 11-mile trek that brings thirsty travelers through popular sites   – including the capitol campus, the waterfront along Port Plaza and Tumwater Historical Park in the shadow of the original Olympia Brewery. The tour includes tours and tastes at three local watering holes including Fish Brewing, Oly Tap Room and Three Magnets Brewery. The tour is for ages 12 and up, soda is provided for minors or designated drivers. The tours are by-appointment in the winter months, so call 360-970-9619 for a reservation.
 
Find more ideas for date night, group dining and entertainment, along with detail on local hotels, inns and bed and breakfasts at experienceolympia.com. Make sure to share your decidedly different date night adventures by tagging social posts #DecidedlyDifferent and connect with us on Facebook, Twitter (@Experience_Oly) and Instagram (@ExperienceOly).