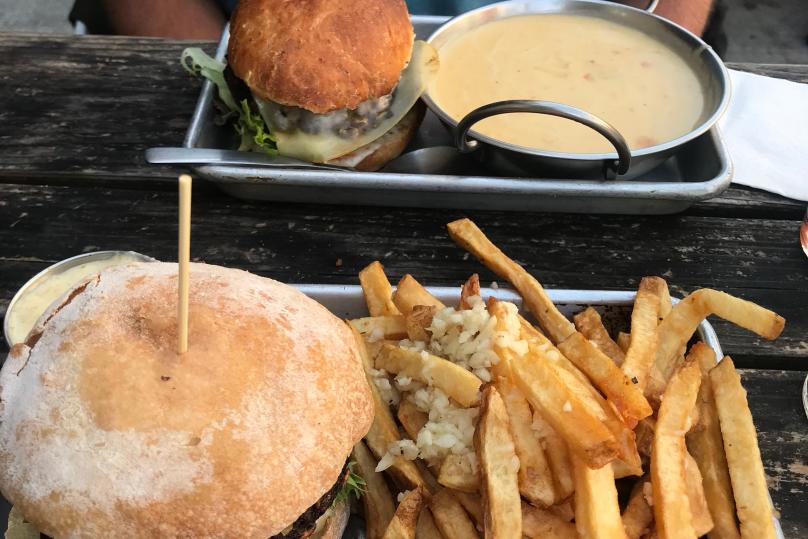 Summer is the season for burgers! Whether you're enjoying a cookout with friends and family or dining out at your favorite neighborhood spot, we all get a craving for burgers and fries. Luckily the Olympia region is home to a unique collection of burger joints, all serving up decidedly different burgers.  
When you're here and the burger craving hits, consider one of these local spots! Below is a curated list to help guide your hunger:  

Burger Lab Mondays at Three Magnets Brewpub
Located in the heart of downtown Olympia, Three Magnets Brewing Co. is a beloved craft brewery and brewpub. Every Monday the restaurant celebrates "Burger Lab Monday" with an experimental burger alongside a 10oz beer for just $15.
For example, they recently featured a brisket & chorizo patty burger, with roasted garlic aioli, spring greens & fontina (pictured below). Pair that with a schooner of their American Stout and you're good to go!
Chili Burger at Ranch House BBQ & Steakhouse
Ranch House BBQ knows a thing or two about real BBQ! Born and raised in Olympia, pitmaster Amy Anderson has competed on the national level and taken home championship titles in Washington, California, Arizona and Nevada. For something decidedly different, try the classic, house-grilled chili burger, topped with the award-winning chili.
Tex Mex Burger at Mills Diner
Located in Rochester, WA, Mill's Diner is a burger lover's paradise. The restaurant serves up classic, American diner favorites with a twist, and their burgers are no exception. Go for something different and try their spicy Tex Mex burger, topped with a charred jalapeno and served with a side of pico fries.
Impossible Burger at Well 80 Brewhuouse
The Well 80 Brewhouse is one-part brewery, one-part brewpub built on the site of one of Olympia's famous Artesian wells. In fact, the delicious well water is used in brewing their line of tasty, craft beers. When it comes to burgers, vegetarians and vegans rejoice! Well 80 customizes any of its burgers with the Impossible Burger patty (GF, V), with a delicious side of fries, tots, house salad or soup.

80/20 Burger at Ricardo's Kitchen + Bar
Located in Lacey, Ricardo's Kitchen + Bar is a romantic, family-owned steakhouse that celebrates Italian-inspired cuisine. The restaurant utilizes top-grade ingredients from local vendors and rotates its menu seasonally. Owner Ricardo lives by the mantra #SEXYBEEF. For an elevated burger experience, order the 80/20 burger and you will not be disappointed.
Expedition Elk Burger at McMenamins Spar Café
Olympia's beloved Spar Café began as a blue collar joint for dockworkers and loggers, and continues today as a modern gathering spot for students, legislators and locals alike. The menu offers celebrated burgers including the decidedly different Expedition Elk Burger, served with coffee-bacon jam, black garlic aioli, white cheddar, lettuce, tomato, red onion and pickles on a sesame brioche bun.
Salmon Burger at River's Edge Tumwater
Located on the Tumwater Valley Golf Course, River's Edge is a newly renovated premier sports bar and dining destination. The restaurant serves up a fresh menu of house specialties to help fuel golfers and sports fans alike. For something decidedly different, order the Salmon Burger – topped with a sweet, Asian pear slaw and wasabi aioli, served with a big side of battered french fries.
Burger Bowl at Uptown Lounge
Uptown Lounge is a beloved restaurant and dining experience in the heart of Yelm, WA, about 20 minutes away from Olympia. The restaurant offers freshly prepared dishes with homemade ingredients, from burgers and salads to sandwiches and wraps. For a unique burger experience, order the "Burger Bowl." No bun, no fries and no mess! Order any of the five specialty burgers, and have it served on a bed of romaine lettuce and your choice of dressing.
Barge Burger at Tugboat Annie's
Located on the Olympia waterfront, Tugboat Annie's has been a beloved Northwest destination for more than 20 years. One-part restaurant, one-part kayak rental, Tugboat Annie's embrace its maritime theme and serves up an eclectic menu of steaks, burgers and seafood. Bring the whole family down and order the Barge Burger, a massive, 10" diameter burger made from five of their regular hamburgers served on a Wagner's Bakery bun.
STAY OVERNIGHT FOR MORE ADVENTURES
Plan your next adventure and tag social posts #DecidedlyDifferent and connect with us on Facebook, Twitter (@Experience_Oly) and Instagram (@ExperienceOly).