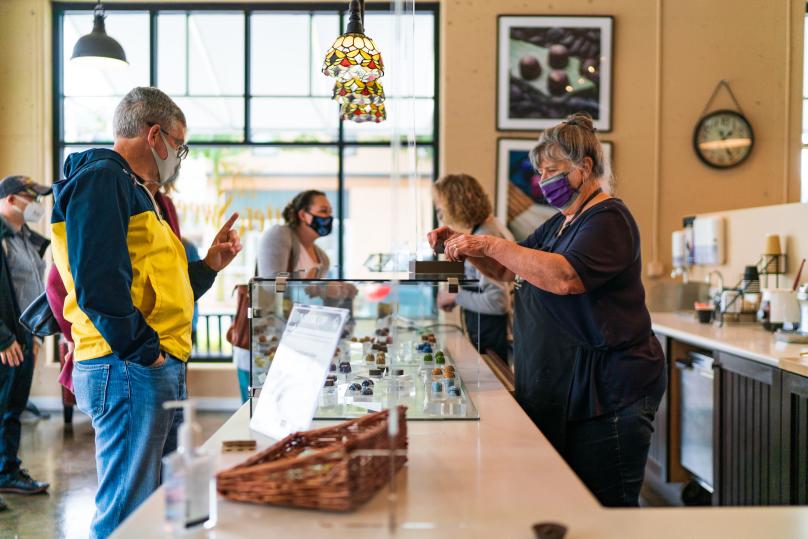 If you're looking for festive activities, holiday happenings, or great shopping ideas, you've come to the right place. Scroll through our 2021 Holiday Shopping and Activity Guide and see how Thurston County likes to celebrate the season.
Holiday Activities
Kick off the holidays with the LoveOly Winter Fest!
Starting Sunday, November 28 and running throughout December, the LoveOly Winter Fest celebrates the season with live music, festive lights and refreshments for all ages. There will also be horse-drawn carriages, holiday storytelling, performances at the Washington Center, free parking December 12–24 and much more. For more information, please visit downtownolympia.org.
Revel in tradition with Ballet Northwest's The Nutcracker at the Washington Center
Join Clara and the Nutcracker Prince for the epic battle between the mice and the soldiers, journey through the Kingdom of the Snow and celebrate with the Sugarplum Fairy in the Land of the Sweets when Ballet Northwest returns to the Washington Center for the 35th-year. Shows run weekends, December 10–19, 2021. Tickets can be purchased here.
Meet the Nutcracker ballerinas from Ballet Northwest at the Hands On Children's Museum
Get up close with sugarplum fairies at the Hands On Children's Museum every Saturday through November 20, 2021. The museum has 28,000 square feet of indoor space, and its eight themed galleries create a sense of wonder and delight for children, who can learn through 150+ hands-on exhibits.
Glide into the holidays at Oly on Ice
The popular pop-up rink in downtown Olympia is back for a third year, offering affordable, family-friendly ice skating daily from Friday, November 19, 2021 through Monday, January 17, 2022. Tickets can be purchased in advance here.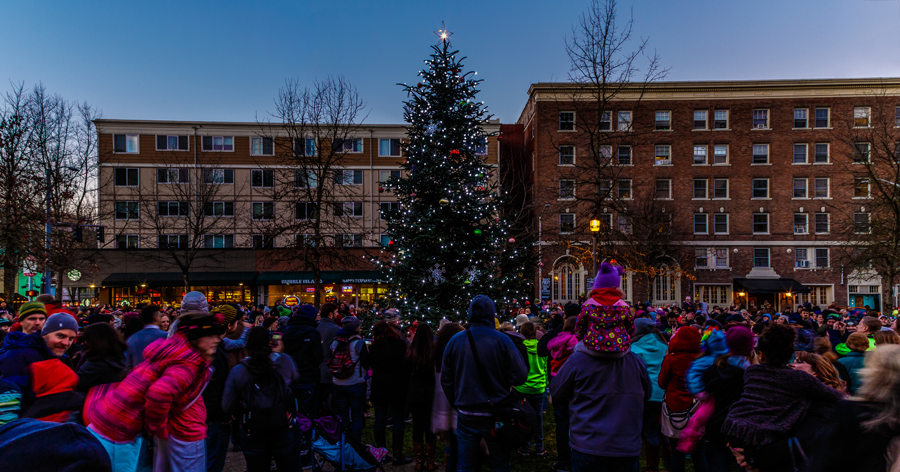 Holiday Shopping
Get into the festive spirit at the Kris Kringle Market
On Friday, November 19 and Saturday, November 20, 2021, start the holidays off with live music, food trucks, shopping and much more at the Thurston County Fairgrounds.
Plan ahead at Tenino Holiday Market
Stroll through the beautiful Kodiak Room in downtown Tenino where more than 30 local artisans will have gifts, decor and treats for three days only – Friday, November 26 through Sunday, November 28, 2021.
Stock up at the Olympia Farmers Market Holiday Market
Washington's second-largest farmers market is open for the holiday season every Saturday and Sunday through December 19, 2021. Find local produce to complete holiday meals, artisanal goods, handcrafted gifts, seasonal wreaths and much more.
This season, there are three Holiday Shopper's Delight bonus market days for last-minute shopping: December 22, 23 and 24, 2021.
Find quirky holiday gifts along the Thurston Bountiful Byway
With 91% of its businesses having 10 or fewer employees, Thurston County is the place to buy small-batch, locally made goods for the holidays.
Pick out a Christmas tree at Hunter Family Farm. The Hunter family have been Christmas tree growers since 1948 and provide a fantastic selection of precut and u-cut trees available Friday, November 26 through Thursday, December 23, 2021 (weekdays 10am to 6pm, weekends 9am to 6pm). Schilter Family Farm is another great spot for Christmas tree shopping in the area.
Luxuriate with the lavender products at Evergreen Valley Lavender Farm. Visit The Gift Shoppe for fun, eclectic presents and delights, including seasonal artisanal wares, farm-direct essential oils and more.
Pick up a selection of small-batch spirits from Salish Sea Organic Liqueurs and Sandstone Distillery, and create the perfect holiday cocktail with their hand-crafted organic liqueurs and spirits made from locally sourced ingredients.
Source a gently used book from A Novel Bookstore. This family-owned shop offers a wide range of fiction and nonfiction titles for both adults and children.
Enjoy locally made sweet treats from Aunt Kate's Chocolates and BitterSweet Chocolates.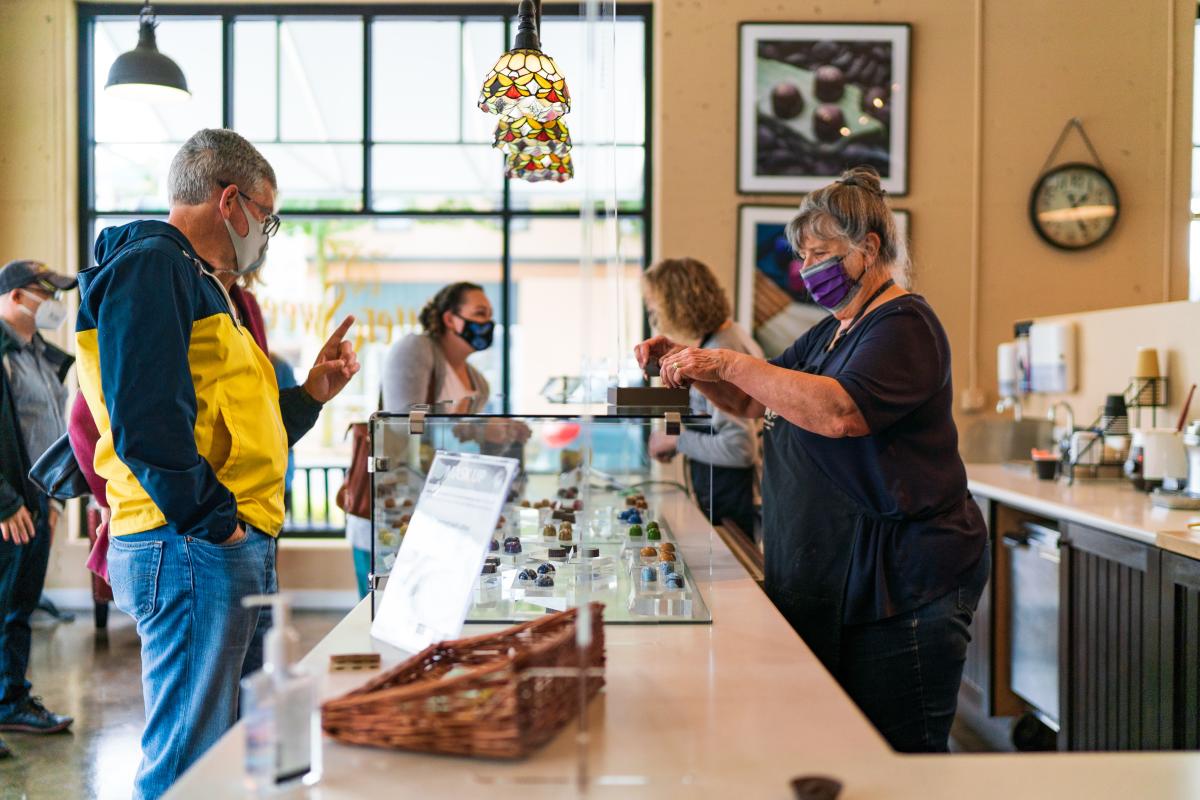 Pictured: Bittersweet Chocolates
Accomodations
Check into these cozy B&Bs abound in Olympia & Beyond
From restored historic buildings to cottages in the forest, the B&Bs of Olympia offer warm and cozy accommodations for a Thurston County holiday getaway.
Swantown Inn & Spa is an 1887 Queen Anne/Eastlake Victorian mansion listed on both the city and state historical registers. Located in a quiet neighborhood in the heart of Olympia, the inn can be a headquarters for exploring the Puget Sound region, or a refuge to escape from it all.
The Eld House is two private cottages on the shores of Eld Inlet, the southernmost on Puget Sound. Enjoy a tranquil oasis in the forest with continental breakfast served early or late.
The Marie Bed and Breakfast, built in 1892, was recently restored and is one of the finest examples of Queen Anne–style architecture in West Olympia.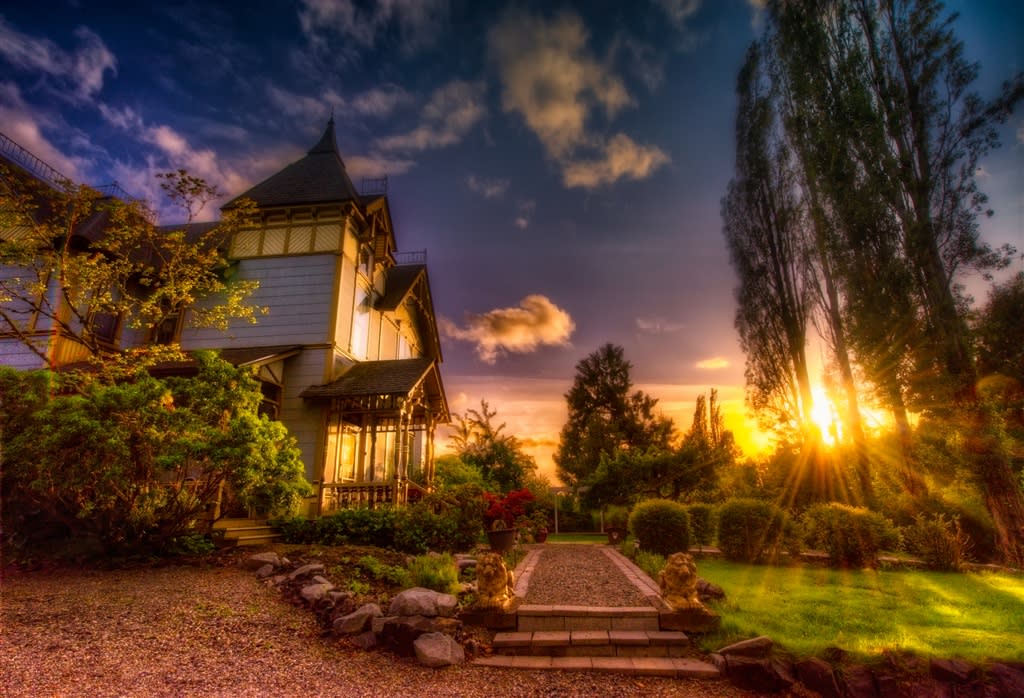 Pictured: Swantown Inn & Spa